Problem > Solution & Concept > Product Design Flow
Designing, Communicating, and Reaching Across Stakeholders & Interest Groups / Targeted Demographics
Collaborating / Managing Across Departments and Fields of Expertise 
Email Automation: Programming Drip Campaigns to Target, Remarket & Increase Lifetime Value
Segmented campaign segments customers based on past purchase behavior and initiates a targeted time-based campaign to each consumer group, reminding for key purchases or service follow-ups based on time since the initial purchase. Emails range from 1 week post purchase to 6 years, with two main email templates created for the campaign - one to market large in store purchases, the other to market the online store for smaller, shipped to home items.
Custom Navigation Solution for Multi-Purpose Website
Problem
: Retail location looking to expand into the online space. Currently offering a diverse range of products with differing availability, shipping options, and complicated purchase decision funnels that require a lot of information / consideration from the consumer.
Solution
: Create multiple navigation options to meet the consumer at every stage (initial research, product specific research, ready to buy) and layer touchpoints into the ecommerce shopping experience to reinforce the brand strategy of "We are the Experts." 
Broad icon navigation and CTA sections on homepage lead to informational category pages. More specific but general navigation allows customer to choose their own path. Once on category pages, AJAX style filtering allows the knowledgeable consumer to drill down to their exact desired product.
Ecommerce Product Pages for Direct To Consumer + In Store Sales Tool
Problem
: Retail location needed additional online tools for the on-site sales team and a website that allows both local and potential national customers to shop directly on their own. Some products have complex purchasing requirements, limitations, or require a knowledgeable decision 
Solution
: Design across stakeholders, presenting information in a way that can be accessed by all interested parties. Create product pages that also function as sales sheets for big ticket items. Provide resources on page that can be used by the sales team at closing stations (video, specs, detailed images) but also provide value to the customer shopping at home. Include reference information that allows the sales team to answer questions quickly and efficiently, but still looks natural in the ecommerce environment.
Euro Elementary Brand Proposal
Developed several brand visual proposals around the concept of an "essentials" line that is light, playful - but also sophisticated, designed to attract the younger / millennial shopper with disposable income and a budding sense of style. Something simple and essential to everyday, but that still allows for the sense of self expression.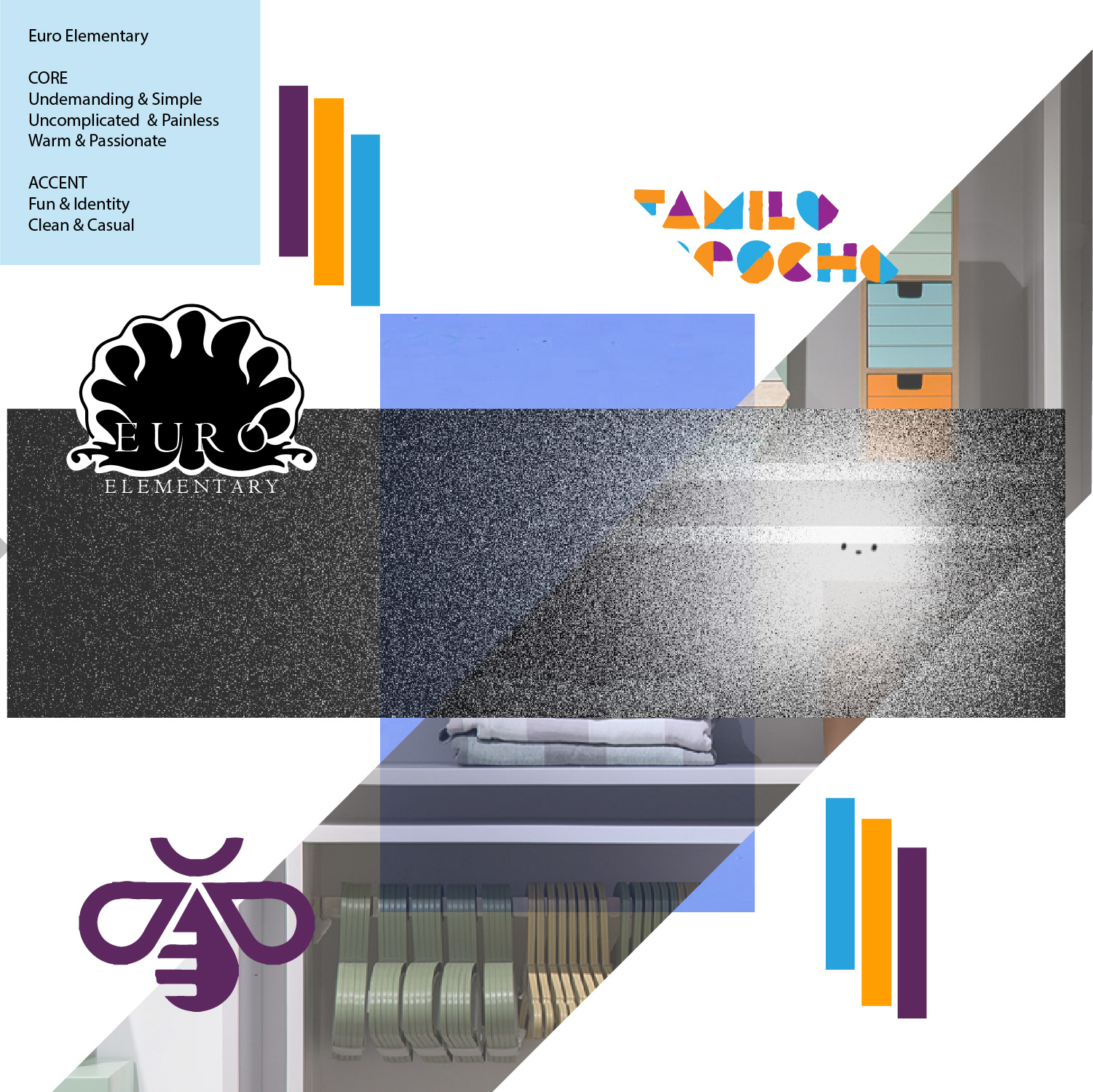 Zanzibar: Expanding on a Best Seller.
Developed the existing product line into best-selling cornerstone brand content through video, new product development, new product photography, new product copy, story and GTM strategy.
The Barn Wedding Venue: Selling a Dream
Using a combination of organic and paid social media content to build a brand identity and shape a communal vision. Developed brand style sheets, custom graphics, several lifestyle videos
E-Bikes: Boosting in-store visits and sales by over 300%
Developed aggressive social media ad strategy of brand video paired with catalog ads to a key target audience, reinforced with website and branding optimizations resulting in a x7 client ROI